Memorial Service
About the Service...
This Annual Memorial Service was founded in 1994 by Sandra Sullivan MBE and her husband Michael in honour of all Victims of Homicide...to enable bereaved families and friends to come together to remember 'those' taken by violence. The 'Justice for Victims' Service was for a number of years organised and funded by KnifeCrimes.Org & Victims' Advocates to share the day with others that understand their particular needs, with empathy and non-judgemental support. All faiths or none welcomed.

St. Martin's is a place where people of different 'faiths' regularly pray together. The 21st Memorial Service to be held at St. Martin-in-the-Fields is on Saturday, 12th December, 2015 at 11am...Coffee and Mince Pies will be served afterwards downstairs in St. Martin's Hall.
Visit 'Events' page for 21st Annual Memorial Service 2015 information
If you would like to attend the Annual Memorial Service a welcome is extended to anyone touched by Murder or Manslaughter.

For further information or to receive a written invitation, please contact SAMM National or email: ann@KnifeCrimes.Org You can also write to: KnifeCrimes.Org & Victims' Advocates, John Russell House, George Williams Way, Colchester, CO1 2JS.

A Personal Message from Ann Oakes-Odger ...

"Recently I heard this Bible reading, and feel it's so very appropriate for Victims of Crime! Proverbs Chapter 31 Verses 8 & 9:

..."Speak up for those who cannot speak for themselves;

oppose any that go to Law against them;

speak out and pronounce just Sentence and give Judgement

for the wretched and the poor"

Louise Casey CB & Ann Oakes-Odger MBE

16th Annual Memorial Service in 2010
Revd Richard Carter...worked for many years as tutor and Chaplain to the Melanesian Brotherhood in the South Pacific. In 2003, seven members of his community were kidnapped and brutally murdered. Richard kept a diary during this agonising time.
| | |
| --- | --- |
| | In 2006 this was published in his book...'In Search of the Lost' which tells the harrowing story of the loss of these seven brothers and the aftermath of those deaths as both he and this Christian community tried to make sense of this violence and tragedy. It is the story of the triumph of hope over despair and God's creative grace over destruction. Richard, who has been a priest at St Martin-in-the-Fields for five years, talks about the way this tragedy continues to impact upon and inform his ministry now in the centre of London. |
~~~~~~~~~~~~~~~~~~~~~~~~~~~~~~~~~~~~~~~~~~~~~~~~~~~~~~~~~~~~~~~~~~~~~~~~~~~~~~~~
St. Martin-in-the-Fields...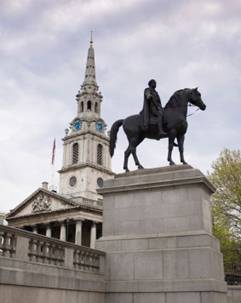 Thanks to St. Martin's first biographer, Sulpicius Severus, we know a great deal about the life of this humble Saint. Martin was born in AD 316 in Pannonia, today part of Hungary and was baptised at 18 years old, rejecting the old religion adhered to by his Mother and Father. Reluctant to join the Roman Army, he was obliged by Law to take the Military Oath, which he then felt compelled to obey. As a Soldier posted in Amiens in France the 18 year old Martin rode through the City Gate one bitter Winter's night and saw an almost naked beggar huddled against the stonework...Martin cut his cloak in two with his sword and gave half to the beggar. That night in a dream, Christ appeared to Martin in the form of the beggar to thank him and next day Martin rushed to be baptised.
Martin could never quite reconcile War with his Christian beliefs and eventually he gave it up to become a 'Soldier of Christ'. Hounded out of his hometown, he became a recluse on an island near Milan where he founded a Monastery called Ligug for the deciples who came to him. It is whilst on the island that he is said to have performed the first of many miracles.
When the Bishop of Tours, France died, the townspeople tricked Martin into visiting the town so that they could make him Bishop. On taking up the post he insisted on living as a Monk in a cell, rejecting the offer of a Palace. Martin lived to be over 80 years old and through his travelling from house to house and speaking to people about God, many people found Christ...St. Martin's Day is on the 11th November, which is the day he was buried in the Cemetary of the Poor in Tours.
The Story of St. Martin-in-the-Fields.
St. Martins-in-the-Fields is a landmark...its fine architecture and prominent location place it at the 'Heart of the Nation'. Its work has valued historic tradition, but St. Martin's has always been innovative in response to changing needs. From London's first free lending library to the first religious broadcast, St. Martin's has broken new ground in defining what it means to be a Church.
There is no official reference to a Church on the site of St. Martin's until Norman time, when in 1222 a dispute was recorded between William, Abbot of Westminster and Eustace, Bishop of London on the Bishop's authority over the Church. The Archbishop of Canterbury decided in favour of the Abbot and St. Martin's, then surrounded by fields, appears to have been used by the Monks of Westminster.
In around 1542, Henry VIII, as ruthless with the Monks as with his Wives, built a new Church and extended the Parish boundaries to keep plague victims from being carried through his Palace. This was enlarged in 1607 at the cost of Prince Henry, the Son of King James I. This Church was pulled down in 1721 to be replaced by the current building.
The present Church was designed by James Gibbs and completed in 1726. It has become one of the most significant ecclesiastical buildings in the English-speaking world. In the 19th Century, while planning Trafalgar Square, John Nash created Church Path and the range of buildings to the north. St. Martin's has always been in the heart of London, offering continued service amidst an every-changing City.
The work of this Church today is informed by practical Christianity examplified in the life of its Patron Saint, Martin, after a career in the Roman armey, centered the Christian Church and became Bishop of Tours. He is remembered for an instinctive act of generosity...sharing his cloak with a beggar. Paradoxically, the ultimate blessing was givien to Martin by the beggar, who returned to him in a dream as Christ.
The example of St. Martin was followed by Dick Sheppar, Vicar of St. Martin's during World War I, who gave refuge to soldiers on their way to France. He Saw St. Martin's as 'the Church of the ever open door'...the doors have remained open ever since.
St. Martin's fight against homelessness was formalised with the foundation of the Social Services Unit in 1948. The work continues today through The Connection at St. Martin's, which cares for around 7,500 individuals each year.
Changing needs in Society were again evident in the 1960's...St. Martin's was concerned for the welfare of new arrivals in the emerging Chinatown and welcomed a Chinese Congregation. Today, the Ho Ming Wah Chinese People's Day Centre provides vital services for the Chinese Community in London.
Throughout the 20th Century, St. Martin's has also looked beyond its own doors and played an active role in wider Social, Humanitarian and International issues. Architecturally, Spiritually, Culturally and Socially...St. Martin's has helped to form the World around it.
James Gibbs' design has been imitated across North America and throughout the World.
St. Martin's was involved in the Anti-Apartheid Movement and the founding of many charitable organisations, including Amnesty International, Shelter and The Big Issue.
The Vicar's Christmas Appeal on BBC Radio 4 has been broadcast annually since 1924, now raising over £500,000 a year for disadvantaged people across the Country.
The Academy of St. Martin-in-the-Fields has becomes one of the World's foremost chamber ensembles.
St. Martin-in-the-Fields is a place where people of different faiths regularly pray together...
E. & O. E.