Westley's Weapons Awareness
Westley's Weapons Awareness..."Knives or Lives? You Decide!"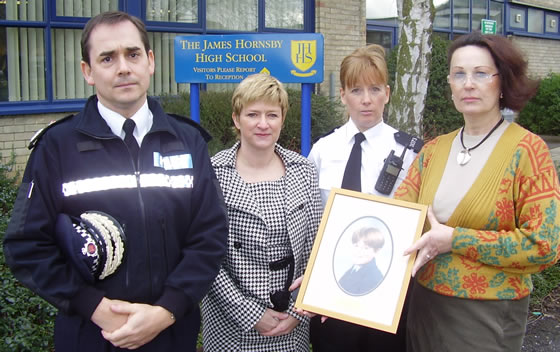 Chief Constable Roger Baker with Head Teacher Gill Hillman, PC Diane Murphy and Ann Oakes-Odger - 24th January, 2007
Educating young people about the implications of becoming involved in carrying weapons. Knife/Gun Crime and other issues, such as using Drugs, Alcohol and becoming influenced by Street Gangs. Informing Youth of how the foregoing areas may lead to a 'life of crime' and what a 'Criminal Record' means in career and travel terms. If you get involved with a 'gang' and someone you're with 'takes a life'...what 'Joint Enterprise' means. The dangers and life altering events that can occur through carrying weapons that can so often result in serious injury or loss of life! Breaking the cycle of Violence is crucial to save lives...the old Hasidic saying "If you save one child, you save the World!"
Watch Films...'A Mother's Story' & 'Say No to Knives' - www.2smart.co.uk/knives
Westley's Weapons Awareness is an initiative designed to be delivered to Schools, Clubs and Youth Community Groups, working in partnership with Parents, Local Authorities, Safer Schools Police Officers, Essex Police and other Police Forces throughout the UK. Youth Offending Teams, Courts and Probation as well as the Voluntary Sector. The Reduction of Crime by integrating the 'Be Safe' Programme to:-
a) Educate and engage Young People...
b) Challenge Youth views to avoid Anti-Social Behaviour and Crime...
c) Offer Support to Victims of Bullying and/or Violent Crime...
d) Promote a Safer Community and encourage responsible citizenship...
Since January, 2007...'Westley's Weapons Awareness' has been delivered by Ann Oakes-Odger in many Schools around Essex and other areas in the UK. Recently, following the tragic murder of School Boy Ben Kinsella on the 29th June, 2008 in Islington, Nth London...KnifeCrimes.Org was joined by Ben's relatives and Essex Police at two Essex Schools. Kerry, Jilly-May and Danny Kinsella who all live in Essex joined in for part of the all day 'Youth Engagement' events which took place at Thomas Lord Audley School in Colchester and Colbayns School in Clacton.
A presentation was also given to every School year over a 2 day period the previous week at the St. John's CE School in Epping.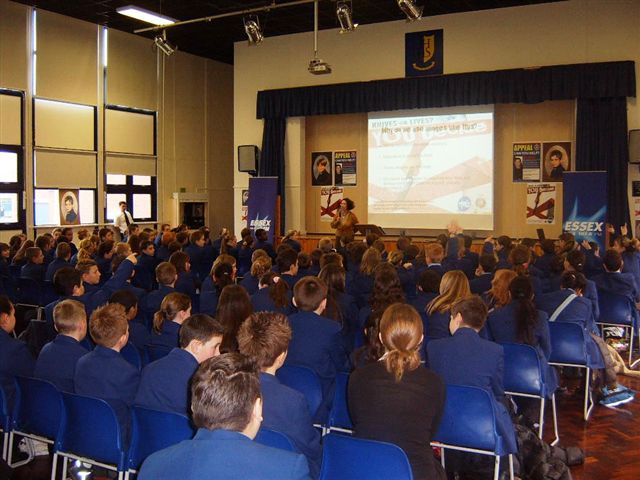 Ann Oakes-Odger talks to 11/12 year olds about the consequences of carrying 'Knives'
KnifeCrimes.Org & Westley's Weapons Awareness Facebook Community!...Show your support by Joining: www.facebook.com/KnifeCrimes.Org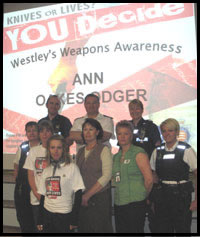 Relatives of Ben Kinsella join 'Westley's Weapons Awareness' and Essex Police
On 9th & 10th July, 2008
HEAR ABOUT WESTLEY'S 'REAL LIFE' STORY ON: www.2smart.co.uk/knives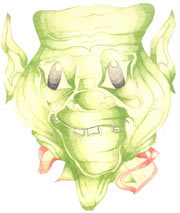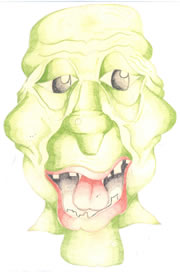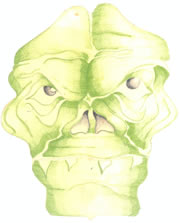 Westley drew these pictures in his Year 7 at School when he was 12 yrs old...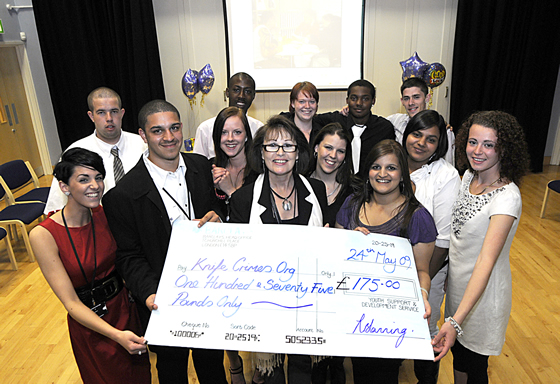 On Behalf of KnifeCrimes.Org - Ann Oakes-Odger gratefully received the Donation from...
'Lou Boy, Browny, Lewie, Ash, Jay, Curly, J-Lo, NK, Dal, Lolli Pop, Dav-Dav & Lau'
During the early part of 2009...Ann Oakes-Odger was delighted to accept an invitation to spend the day at 'The Vibe Youth Centre' in Dagenham, Essex. The activities and excellent programmes witnessed throughout the day for young people is amazing, as well as the dedication of Volunteer Leadership Organisers. Those pictured above gave up their own time to prepare the day...the Presentation Ceremony (attended by the Mayor)...the filmed DVD of the outcomes of the project, and prepared food. The day was professionally co-ordinated by the young people themselves who had also raised £175.00 Donated for the ongoing work of KnifeCrimes.Org & Westley's Weapons Awareness. The motto of the Youth of the Vibe...
"Together we will Build Communities & Transform Lives"...
~~~~~~~~~~~~~~~~~~~~~~~~~~~~~~~~~~~~~~~~~~~~~~~~~~~~~~~~~~~~~~~~~~
MUSIC...KnifeCrimes.Org was recently sent this excellent piece of music www.youtube.com/watch?v=JQQf1AyZp2s
PANORAMA - JOINT ENTERPRISE... www.bbc.co.uk/iplayer/episode/b00p31vd/Panorana_Lethal_Enterprise/
EFFECTS OF GUN CRIME - Pat Regan's Story: http://vimeo.com/6817329
E. & O.E.