Essex Police Information & Resources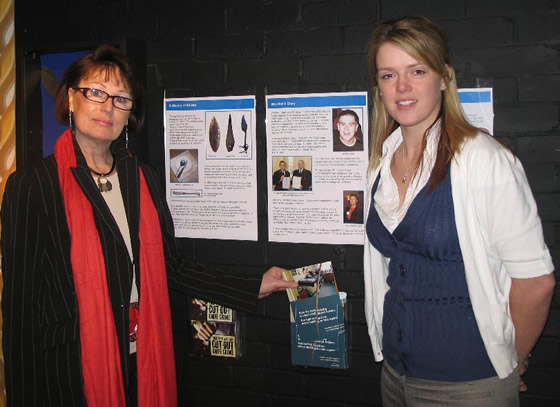 Say "No to Knives" - Westley's Story Museum Display...Ann Oakes-Odger with Museum Curator Becky Latchford
The Essex Police Museum 'History of Knives' display is part of the Force's Say 'No to Knives' Campaign. The new feature will be seen by hundreds of young people visiting the Museum each month...
Essex Police Museum & Educational Resources: www.essex.police.uk/museum
You Tube Channel: www.youtube.com/essexpoliceuk
****************************
New Text Message Initiative:

The new initiative enables you to text the police for information on many aspects of their service, contacting the police in this way will help many people out in the community.

It must be remembered though that this service does not replace the 999 service for emergencies and this should continue to be used when fast response is needed for all emergency situations.
---

Text messaging offers an alternative method of contacting the police to make routine enquiries, to seek or give information, or get advice.

The service is particularly aimed at those who have speech or hearing difficulties and may find voice communication problematical. It is also aimed at young people who are avid text communicators and adept at its use.

The number to be used to contact Essex Police by text is: 07624 800 101

Chief Superintendent Sue Harrison, Head of Essex Police Communications Division, said: "This is an alternative method of contacting Essex Police. We are offering this service to those who regularly use text messaging and may prefer to use that rather than make a voice call. It does not replace the 999 emergency number which should still be used for urgent calls."

Further non-urgent information is available by calling 0300 333 4444 or www.essex.police.uk

---
Essex Police want to deter and detect those who carry weapons. Carrying a Knife can lead to fatal consequences, causing grief and pain to those involved...and the Community as a whole! Anyone caught carrying a Knife is commiting a serious offence. If you have any information on this or any crime, please contact your local Police on 0300 333 4444 or CrimeStoppers on 0800 555 111 www.2smart.co.uk/knives

Tell us your views on these new initiatives...

Do you think more police forces should adopt this text messaging service?
Find out what's happening in your Neighbourhood and all about your Neighbourhood Policing Team visit: www.essex.police.uk/yourarea and enter your Postcode.


Use our contact form and let us know what you think.

E. & O.E.