Knife Angel
KnifeCrimes.Org proudly announce that we have become a Partner Organisation of the 'Save a Life, Surrender your Knife' Project launched by the British Ironwork Centre…

Angel Monument…the angel monument is being constructed using donated knives, turning weapons collected from amnesties to make a monument to peace. Raising awareness of the enduring consequences of such violence and what it may mean to carry weapons. We are immensely excited to be involved in this project, the creation of a national monument and the anti-violence campaign backed by affected families, Police & Crime Commissioners, Police Forces and importantly the concerned public!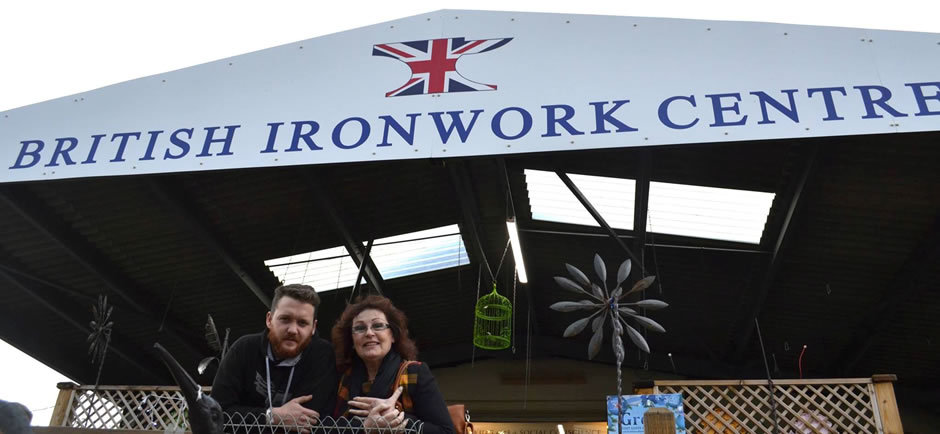 Ann Oakes-Odger MBE meets Sculptor and Artist Alfie Bradley, responsible for constructing the Angel in the workshop at the British Ironwork Centre.

The British Ironwork Centre has pledged that all weapons handed in across the country would be used to make a sculpture to peace, dedicated to all victims of violence. At the heart of this incredible campaign is the iconic Angel sculpture, being crafted at the centre by Alfie Bradley.
Ann is seen here symbolically engraving a message of love from all of Westley's family, Alfie having given her an 'all important' tutorial beforehand!

Other families who may wish to have an engraving to a loved-one included whilst the wings are in construction can contact Ann for details: ann@KnifeCrimes.Org

Ann engraves a message to son, Westley Odger...
| | |
| --- | --- |
| Having checked the memorial engraving, Ann prepares to take part in the welding of the blade to the monument…the start of the formation of the Angel's wings. The Angel is an immense structure standing approximately 26 feet high! | |
| | Ann and Alfie examines the engraving to Westley... |
Having seen this amazing, thought provoking monument, one realises that it has a powerful message to send! A message that we will not accept violence and aggression in our Society. Ann says…

"I feel overwhelmed at being able to leave this lasting message to Westley on this amazing Angel.

Before seeing it, I had no prior conception of just how bold, imaginative and representational of one's feelings of 'why'…why are we seeing so many lives destroyed by violence!

The Angel is an inspirational symbol of peace…representing a stand against violence and aggression in all forms on our streets!"

Ann and Alfie inspect the position on the wings...
| | |
| --- | --- |
| | |
| Ann looks at home-made deadly weapons... | A few of the unbelievable array of weapons... |
| | |
| | |
| Swords handed in during amnesty so far... | An item clearly labelled from an internet purchases... |
For many months since the beginning of the 'Surrender your Knife' campaign, the British Ironwork Centre have gained the backing of numerous Police Forces. This assistance like that of organisations, families and the support of communities is priceless, enabling the campaign to position the amnesty bins across the United Kingdom. Everyone involved consistently aiding the message of support on social media platforms, all with the sole purpose of spreading the word…
'No to Knives…No to Weapons...No to Violence!
Allison Cope…mother of Joshua Ribera, a young rap star with a bright future based in Birmingham, was fatally stabbed in 2013 outside a memorial event for another talented young artist, Kyle Sheehan. Kyle was also fatally stabbed just a year earlier. When a life is taken in this violent way the trauma ripples through the family, friends and local communities.

We support one goal of ridding our streets of violence and preventing senseless killings.

Alison Cope…gives her supports to the Campaign...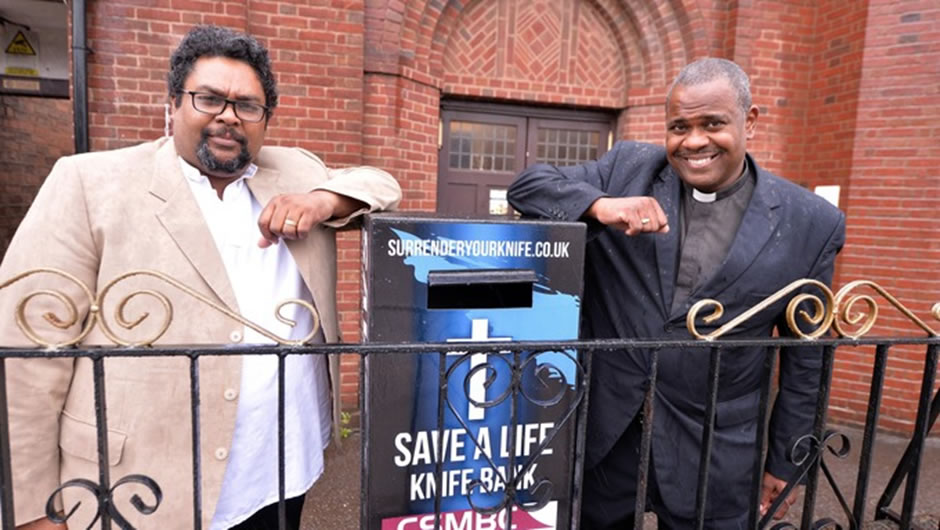 A Birmingham Church has placed a Knife Surrender Bin out its doors with the message of hope of reducing violence.
The initiative was unveiled at the Handsworth Cannon Street Memorial Baptist Church, with deputy police and crime commissioner Yvonne Mosquito present.
The first knife bin to be provided by the community and follows news that bladed weapon crime in the West Midlands has increased by nearly 10 per cent.
Home Office figures showed knife crime convictions in the area are half what they were in 2009.
Desmond Jaddoo, founder of community group Birmingham Empowerment, arranged for the bin to be placed outside the Soho Road Church. Installation costs were covered by the congregation and the bin itself was donated by British Ironwork Centre, Oswestry.
"At the end of the day, all we need is one knife in that bin to make it a success because it takes only one knife to kill a person."
But Desmond stressed that the receptacle is only one small part of a wide initiative to end the menace of armed crime in Handsworth.
"Just having the bin there is not enough, the church is already doing work in the community to change minds. If everyone in the community sings from the same hymn sheet, it will make a difference.
"And remember, knife crime is not isolated to young people.
"It's 'Lives not Knives' we are promoting. We all have a responsibility to ensure we change the mind set of those who feel using a knife is the only way. This is not symbolic, but an additional tool in the fight against knife crime."
DESMOND JADDOO, FOUNDER OF COMMUNITY GROUP BIRMINGHAM EMPOWERMENT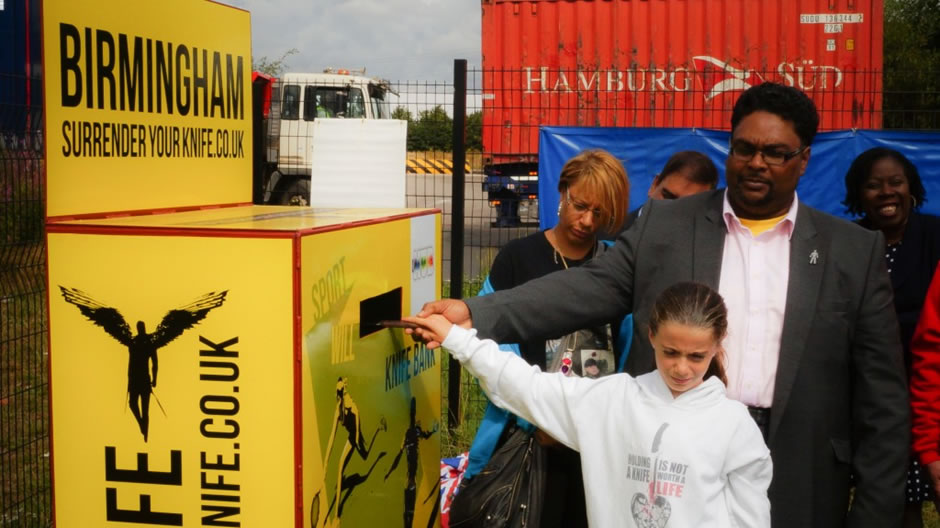 In March, 2015, the Birmingham Mail reported during 2013-14 West Midlands Police recorded 1,659 offences involving knives. The year before, the figure was 1,508.
But the new Home Office statistics show 870 knife crimes resulted in cautions or sentences in the 12 months to March this year. That compares with 1,796 in the 12 months to March 2009. Communities are showing their support and saying that violence and aggression is unacceptable in a civilised society…we cannot afford to be complacent...
"People's lives are still affected by knife crime every day. Community initiatives like this are extremely important in the fight against knife crime."
DETECTIVE INSPECTOR NICK DALE, WEST MIDLANDS POLICE'S LEAD FOR KNIFE CRIME
Clive Knowles, Chairman of the British Ironwork Centre has met with a number of Police Forces personally promoting the 'Surrender your Knife' campaign. Alfie Bradley the Sculptor and Artist responsible for constructing the Angel is also seen here in the West Mercia Police photos above.
The 'Surrender your Knife' campaign was run by Cleveland Police alongside the British Ironwork Centre, which provided secure bins for Teesside police stations. Chief Insp. Tariq Ali said:

"We are pleased with the response we have had in Cleveland. Each item handed in represents one less potentially dangerous knife which could end up being used to harm someone or used in other crime".

Pcc Barry Coppinger and Chief Insp Taiq Ali...
A total of 245 knives and other bladed items were handed in to police during a two-week knife surrender campaign. Earlier this year it emerged that Teesside was the knife crime capital of England and Wales.

The area had knife crime rate of 50 for every 100,000 people living in the area - the highest rate out of all 43 police forces in England and Wales for 2014.

PCC Barry Coppinger
Other UK Police Forces involved…
Listed here are some of the Police Forces around the UK that are already involved in this campaign, as follows:
Dorset & Somerset
Dyfed Powys
Cheshire
Cumbria
Essex
Greater Manchester
Lancashire
Liverpool & Merseyside
Metropolitan - London
Northamptonshire
North Wales
Northumbria
West Mercia
West Midlands
Scotland
E. & O.E