Knife Crime Petition & Law Changes
Westley Odger was robbed of life in an unprovoked 'Knife Attack'
at a Cash Machine in the afternoon of the
12th September, 2005 at 3pm...
A Petition calling for 'Knife Crime' and 'Gun Crime' to be treated the same in 'Law' commenced
12th September, 2006
Campaign History...
The Violent Crime Reduction Bill was introduced in 2005...as a result of the launch of the above campaign, amendments were made in October, 2006 before receiving Royal Assent. Changes included raising the minimum age to buy a knife from 16 to 18 as well as increasing the maximum sentence for 'carrying a knife without good reason' from 2 years to 4 years. It also gave Teachers more power to search pupils for weapons - Royal Assent of this Bill, November, 2006. However, the campaign continued to make further Law changes, as follows:
21st March, 2007 (Budget Day) - Bob Russell MP for Colchester Tabled the *Public Petition of 5,000 signatures to the House of Commons and recorded same in Hansards, as follows:- www.publications.parliament.uk/pa/cm200607/cmvote/70321v01.htm
'The Petition of Mrs. Ann Oakes-Odger, the mother of murder victim Westley Odger, and others,
Declares that...
"We are appalled by the number of people killed through the use of Guns and Knives; we are further appalled that, although the number of people who are killed by Knives is three times higher than those who are killed by Guns,
the legal system treats Knife Crimes less seriously than Gun Crimes.
The Petitioners therefore request that the House of Commons urge the Home Secretary to introduce legislation so that the carrying of Knives and the use of Knives, and Sentencing Policies, are treated on the same terms as Gun Crimes."
27th March 2007 - 1st Home Affairs Select Committee...'Knife Crime Debate' supporting the foregoing Petition. The Written Memorandum submitted by Ann Oakes-Odger to the Select Committee can be found on the 'Knife Crime Resource' - (left of page).
www.publications.parliament.uk/pa/cm200607/cmselect/cmhaff/433/433we07.htm
www.youtube.com/watch?v=HKJoBIFFx1A
November, 2008/January, 2009 - 2nd Home Affairs Select Committee... Ann Oakes-Odger gave Oral Evidence on the 20th January, 2009 wherein my call for a *Review to increase the 'Knife Murder' Tariffs in line with 'Gun Murders' was repeated. Also, I called for a National Education Programme...which is now recommended. On behalf of KnifeCrimes.Org Ann Oakes-Odger also submitted supporting Written Evidence: www.publications.parliament.uk/pa/cm200809/cmselect/cmhaff/112/112we23.htm
www.youtube.com/watch?v=zJnILZzG-HQ
2nd June, 2009 Home Affairs 'Knife Crime' Report Published...can be downloaded from the 'Knife Crime Resource' Section. Minutes also published:
www.publications.parliament.uk/pa/cm200809/cmselect/cmhaff/112/9012005.htm
16th June, 2009 Jack Straw announced in the House of Commons...that he has ordered a Knife Murder Sentence Review..."There have been considerable concerns about the starting points for the minimum terms for murder involving the use of a Firearm, which is 30 years, compared with murder involving use of a Knife, which is 15 years...
"I intend to review the provision of Schedule 21 of the
Criminal Justice Act 2003..."
www.legislation.gov.uk/uksi/2010/197/pdfs/uksiem_20100197_en.pdf
This is a welcomed announcement for *Ann Oakes-Odger founder of KnifeCrimes.Org & Westley's Weapons Awareness, who successfully campaigned since September, 2006 for the Schedule 21 Review of the Criminal Justice Act 2003 which resulted in the introduction of a New Tariff of 25 years. This campaign was acknowledged by letter from Jack Straw...
"...the day before Jack Straw's announcement
on 15th June, 2009 Ben Kinsella's family criticised the
Sentence handed down to his killers...
which echoed Ann's successful campaign!"
http://news.bbc.co.uk/1/hi/england/london/8100060.stm

Minimum Term for 'Knife Murder' increase from 15 to 25 years ...Confirmed on 11th November, 2009 and very welcome news for *Ann Oakes-Odger, who says...
..."This will indeed make a huge difference to those
families affected by the
loss of a loved-one in this way.
I've campaigned for this Review since September, 2006 following the Trial of those responsible for the murder of my Son Westley Odger, on the
12th September, 2005
I am very excited about the news of this success!...
Click here to read the full report
3rd MARCH, 2010 - 25 YEAR STARTING POINT FOR 'KNIFE KILLERS' EFFECTIVE:
www.legislation.gov.uk/uksi/2010/197/pdfs/uksiem_20100197_en.pdf
www.policeprofessional.com/news.aspx?id=10015
www.cps.gov.uk/legal/s_to_u/sentencing_manual/murder/
www.legislation.gov.uk/uksi/2010/197/article/2/made
On the 21st September, 2010 at the Old Bailey
Judge Richard Hone
Sentenced the first person under these New Rules...
Daniel Smith was handed down the 25 year Minimum Tariff
But, Judge Hone reduced the Tariff to 20 years as 'Smith' was of previous good behaviour...
Daniel Smith 23, fatally stabbed Kelvin Francis 26, a tourist from Granada
following a row over £50 and a mobile phone!
2nd Case since Review Sentenced On 28th October, 2010 to 26 years:
www.independent.co.uk/news/uk/crime/knifeman-jailed-for-minimum-of-26-years-2118988.html
~~~~~~~~~~~~~~~~~~~~~~~~~~~~~~~~~~~~~~~~~~~~~~~~~~~~~~~~~~~~~~~~~~~~~~~~~~~~~~~
26th November, 2009 - Home Affairs Committee, Knife Crime Seminar... took place in the Attlee Suite, Portcullis House. The Cross-Party Panel - Rt. Hon. Keith Vaz MP (Home Affairs Committee Chairman), Bob Russell MP, David Hanson MP, Crispin Blunt MP, Paul Holmes MP. To update on trends and initiatives - Chief Constable Keith Bristow (Warwickshire Police), Head of the Tackling Knives Action Programme (TKAP) and Chief Constable Alf Hitchcock (National Policing Improvement Agency), Knife Crime Lead for the Association of Chief Police Officers. The Chair opened the discussion in the folllowing subject areas, with attendees.
* Do we agree with the analysis contained in the Report?
* Do we agree with the solutions proposed?
* Has anything changed over the last six months in terms of trends and solutions?
* What practical steps should be taken by the Home Office and other Agencies to
implement the recommendations?
* How can we re-focus existing funds in the most effective way?
Attendee/Open Discussion Members & Follow-up Recommendations:
www.parliament.uk/parliamentary_committees/home_affairs_committee/091214no14.cfm
Ann Oakes-Odger - Mother of Westley Odger/Founder KnifeCrimes.Org
Frances Lawrence - Widow of Philip/Founder of Philip Lawrence Awards
Dr. Marian Fitgerald - Criminology Professor/University of Kent
Dr. Iain Brennan - Violence & Society Research Group/University of Cardiff
Dr. Fiona Lecky - Trauma Audit Research Network/College of Emergency Medicine
Professor Karim Brohi - Trauma & Vascular Surgeon/Royal London Hospital
Fiona Blacke - Chief Executive/National Youth Council
John Drew - Chief Executive/Youth Justice Board
Supt. Dave Chinchen - Head of Operation Blunt 2/Metropolitan Police
Commander Mark Simmons - Metropolitan Police
Dr. Stella Creasy - Head of Public Affairs & Campaigns/Scouts Association
Andrew Neilson - Public Affairs & Policy/Howard League of Penal Reform
Christian Steenberg - Community Safety Team/Greater London Authority
Vicky Helyar-Cardwell - Catch 22
Cat Kirkcaldy - Community Foundation for Merseyside
PC Bob Bowman - Weapons Awareness Programme/Leeds
Florence Emakpose - World of Hope (London Group)
Emma Nicholson - Head of Policy & Research/The Prince's Trust
Jim Dale - Young Person/The Prince's Trust
Paul Connolly - Young Person/The Prince's Trust
Peter Nzekwu - Young Person/The Prince's Trust
Sat Singh - Young Person/The Prince's Trust
---
During January & February, 2007 together with Essex Police, the families
below took part in a series of Radio Programmes on
EssexFM Radio to raise awareness of 'Knife Crimes'...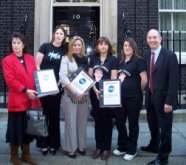 Ann Oakes-Odger, Sandra Griffiths & Melanie Hopwood are part of the
delegation of families to hand in over 21,710 signatures to the
Prime Minister at No. 10 Downing Street - March, 2007
www.publications.parliament.uk/pa/cm200607/cmhansrd/cm070312/debtext/70312-0020.htm
Daniel Pollen & Andy Griffiths' Story: www.youtube.com/watch?v=NZRoiOZXpEU
"Let us be clear, if you carry a knife our objective and determination is that you will be prosecuted; you will be punished...but we want to do all in our power also to prevent anyone carrying a knife in the first place."
"Enforcement, punishment and prevention together!"
Rt. Hon Gordon Brown MP, Prime Minister...
July, 2008
~~~~~~~~~~~~~~~~~~~~~~~~
Doctors 'must report knife crime'
Previously, doctors only had to report cases of gun crime
Doctors in the UK should tell police every time they treat a victim of gun and knife crime, new guidelines from the General Medical Council will state.
New guidelines from the General Medical Council effective from 12th October, 2009: http://news.bbc.co.uk/1/hi/uk/8276609.stm
Knife Crime : DirectGov... www.direct.gov.uk/en/CRIMEJUSTICEANDTHELAW/Typesofcrime/DG_181675
E. & O.E.