Make a Free MuchLoved Tribute Website

A 'MuchLoved Tribute' is your own individual website where friends and family, near or far, can upload and share special memories, support each other and celebrate a life in a very personal way.
It's free to create and can hold photos, music, videos or stories...like an online memory box. It is possible to light a candle, make donations or use the page for events and fundraising.
You can view existing Tributes here in our Tribute Garden.
Tribute to Westley Odger... a 'Much Loved' Son: http://Westley.Odger.muchloved.com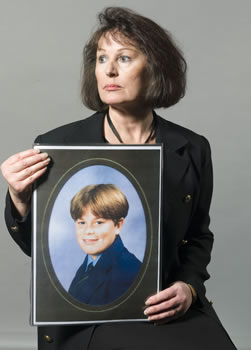 Westley's lively powerful personality and extravert fun loving nature made him attractive to young and old alike. He was particularly adored by his niece Chloe...having a natural affinity with children. As a child he loved school and excelled in all subjects, particularly Art in all forms, including performing arts...also a gifted poet and orator. During his school years as a day boy at Colchester`s Boys High and later as a Boarding school pupil..he continued to sing as a Soloist Choir Boy.

His enjoyment of song and dance continued long after leaving school, along with his strong Christian faith. Likewise sports..Swimming, Tennis, Rugby and Football - an avid Liverpool supporter, who would have been ecstatic at the superb game Liverpool played against West Ham to win the Cup Final on the 13th May, 2006.

As a family watching that game with Westley in mind, we could see and hear his reaction and cheers! His hobbies other than sport included reading, writing poetry, sketching...he loved animals and nature, often would sit and draw birds, even landscapes.
Trauma faced by Victims' families www.bbc.co.uk/news/uk-10687059
---
Personality and Charisma:

In whatever way Westley touched one`s life he never just arrived, he always made an entrance! Whether it was his charm, his humour or his `charisma` he never failed to leave his mark! He lived life to the full with a passionate and positive attitude...in fact, the impossible to him was achievable! A people person..who greeted his family and friends with a big `bear hug` and warm hand shake!
---
Westley...My Son And My Friend:
Westley...an extraordinary Son, and a friend...we talked, laughed together and bounced ideas. Disagreements as in any family, were short lived..he was never too big, or too proud to say `Sorry!...Love you, Mum!` Neither was he simply a Brother, Grandson or Uncle...he was a `Man` who loved and adored all his family, and actively showed it.

Westley was particularly close to his Brother Lee they were together constantly `Pals, through thick and thin!` Also extremely close to his Sister Rachael, her partner Stefan and their Daughter, Chloe...who could always rely on Westley to be there in a `crisis'...no matter what the problem may be, Westley always dealt with everything with courage. His `lion-heartedness` made him generous, big hearted with a willingness to help others, especially his family.

How does `one` describe a person like Westley, who was with out doubt `larger than life` certainly with great difficulty...although, one of his many friends said recently...
"Westley is impossible to forget"
Certainly, whilst we have wonderful, unforgettable memories of `Times Past'...our lives will never be the same again, despite Westley wishing us all to be happy! Remember him...but, be happy...this is what he would want.
A Memorial Plaque has been placed on
Westley's Tribute Bench
in the
'Imola Garden'
Castle Park
Colchester
Westley J.B. Odger 18th August, 1978 to 12th September, 2005
"In remembrance of unforgettable times past"
Your Loving Family
A tribute to a 'Much Loved' Son: http://Westley.Odger.muchloved.com
**************************************************************************************
You can find out more on our Tribute Fund information page
E. & O.E.