Victims - Locations - Ages - Circumstances - Weapon
Liverpool: 'We have to walk round with knives' - BBC News
During 2016 a knife or blade was used in a crime every 16 minutes, somewhere in the UK. There were 2,300 victims of knife crime aged 18 or younger last year, records show – a rise of 45% over three years, in England and Wales. The Home Office says knife crime remains below levels in 2010 but it recognises there is more to be done. The BBC's Ed Thomas has been to Liverpool to meet people who say they carry knives every day!
BBC News – Ed Thomas' YouTube Report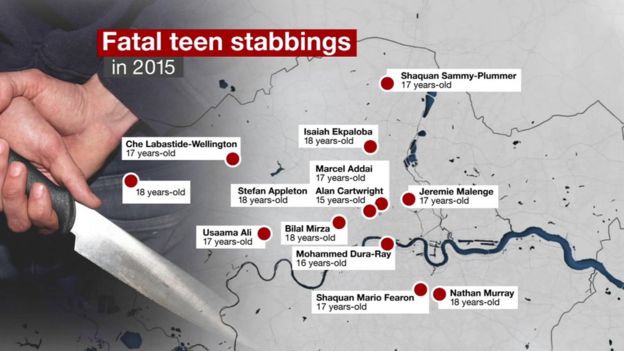 Trauma faced by Victims' Families
www.bbc.co.uk/news/uk-10687059
Over the years many families have taken part in campaigns to raise awareness to violent crime involving Knives, Guns and other weapons. Our Charity continues to work with families bereaved by Murder & Manslaughter, alongside Government and other agencies to reduce violence. Celebrities have also supported this anti-violence message through music...
Jesse J - "Why? Soul Deep"
www.youtube.com/watch?v=c77zDCwwYlU
Jocelyn Brown, Juliet Roberts, Hill Street Soul & Jesse J - "A Mothers Ballad"
www.youtube.com/watch?v=KCkhsRZ1Ink&t=11
Maxi Priest - "Testify"
www.youtube.com/watch?v=VAJ1X2T1i-0
~~~~~~~~~~~~~~~~~~~~~~~~~~~~~~~~~~~~~~~~~~~~~~~~~~~~~~~~~~~~~~~~~~~~~
Jo Cox MP 41
16th June, 2016 
Birstall, Leeds
Jo Cox 41, was stabbed 15 times and shot three times outside her constituency
surgery in Birstall, near Leeds, on 16th June, 2016 - a week before the EU referendum.
Read the full story: www.bbc.co.uk/news/uk-37978582
~~~~~~~~~~~~~~~~~~~~~~~~~~~~~~~~~~~~~~~~~~~~~~~~~~~~~~~~~~~~~~~~~~~~~
Vasilaki Kakko 17
23rd November, 2015
Holloway, London
Vasilaki Kakko 17, was found with stab injuries in Yoke Close, off North Road, Holloway at about 8.50 pm and was declared dead half an hour later.
Read the full story: www.bbc.co.uk/news/uk-england-london-34930161
~~~~~~~~~~~~~~~~~~~~~~~~~~~~~~~~~~~~~~~~~~~~~~~~~~~~~~~~~~~~~~~~~~~~~
Mahammed Dura-Ray 16
14th September, 2015
Walworth, London
Mohammed Dura-Ray was found with multiple stab wounds in Canterbury Place, Walworth, at about 22:10 BST on Monday. He was pronounced dead at the scene a short while later.
Read the full story: www.bbc.co.uk/news/uk-england-london-34254310
~~~~~~~~~~~~~~~~~~~~~~~~~~~~~~~~~~~~~~~~~~~~~~~~~~~~~~~~~~~~~~~~~~~~~
James Attfield 33 & Nahid Almanea 31
29th March, 2014 and 17th June, 2014
Colchester, Essex
Mr. Attfield was stabbed more than 100 times. His body was found on the Riverside Path in Castle Park on the 29th March.
Ms Almanea a student at the University of Essex, was stabbed on the Salary Brook Trail footpath on the 17th June as she walked to the Wivenhoe Campus from her accommodation in Woodrow Way.
Read the full story: www.bbc.co.uk/news/uk-england-essex-36101797
YouTube coverage: www.youtube.com/watch?v=YbmSc2KxebI
YouTube coverage: www.youtube.com/watch?v=6hpPYUJ3xwQ
~~~~~~~~~~~~~~~~~~~~~~~~~~~~~~~~~~~~~~~~~~~~~~~~~~~~~~~~~~~~~~~~~~~~~
Nicholas Robinson 19
5th March, 2014
Bristol
Nicholas Robinson 19, died after he was attacked leaving his flat in Ron James House, Jamaica Street. The trainee bricklayer managed to telephone the police before collapsing in the street on the 5th March, 2014
Read the full story: www.bbc.co.uk/news/uk-england-bristol-26672675
~~~~~~~~~~~~~~~~~~~~~~~~~~~~~~~~~~~~~~~~~~~~~~~~~~~~~~~~~~~~~~~~~~~~~
Sean Noctor 24
28th July 2013
Windsor, Berkshire
Sean Noctor, 24, died in hospital from injuries he sustained during a fight between a group of men in Barry Avenue just after 03:00 BST on Sunday
Read the full story: www.bbc.co.uk/news/uk-england-berkshire-23507469
~~~~~~~~~~~~~~~~~~~~~~~~~~~~~~~~~~~~~~~~~~~~~~~~~~~~~~~~~~~~~~~~~~~~~
Fusilier Lee Rigby 24
22nd May 2013
Middleton, Greater Manchester
Fusilier Lee Rigby, a father of one from Middleton, Greater Manchester, died of multiple cut and stab wounds after the attack on 22 May, 2013
Read the full story: www.bbc.co.uk/news/uk-25298580
~~~~~~~~~~~~~~~~~~~~~~~~~~~~~~~~~~~~~~~~~~~~~~~~~~~~~~~~~~~~~~~~~~~~~
Jay Whiston 17
8th September, 2012
Colchester, Essex
Jay Whiston was fatally stabbed at a house party in Stanway, Essex in September, 2012...his family and Essex Police waited some considerable time before the perpetrator was caught and brought to justice. This followed a successful intense investigation by Essex Police.
Read the full story: www.bbc.co.uk/news/uk-england-essex-27236497
~~~~~~~~~~~~~~~~~~~~~~~~~~~~~~~~~~~~~~~~~~~~~~~~~~~~~~~~~~~~~~~~~~~~~~
Jane Clough 26
25th July, 2010
Lancashire
Jane Clough was fatally stabbed 71 times in an extremely violent attack in a Lancashire Hospital car park. Following Jane's murder her parents successfully campaigned on a number of important issues, bringing about important change particularly on Bail powers, now known as Jane's Law.
Read the full story: www.bbc.co.uk/news/uk-england-lancashire-28390289
~~~~~~~~~~~~~~~~~~~~~~~~~~~~~~~~~~~~~~~~~~~~~~~~~~~~~~~~~~~~~~~~~~~~~~
Stephen Timms MP 54
14th May, 2010
East Ham, London.
MP for East Ham Mr Timms was stabbed twice in the stomach at a constituency event on Friday...Liberal Democrat peer Nigel Jones was stabbed 10 years ago in similar circumstances when he was wounded and his aide Andrew Pennington was stabbed to death with a sword in January 2000. Lord Jones said the recent stabbing of Mr. Timms was "shocking"...he is urging Politicians to improve security.
Read the full story: http://news.bbc.co.uk/1/hi/england/gloucestershire/8684333.stm
~~~~~~~~~~~~~~~~~~~~~~~~~~~~~~~~~~~~~~~~~~~~~~~~~~~~~~~~~~~~~~~~~~~~~~~~~~~~~~~~
Kodjo Yenga 16
14th March 2007
West London
Kodjo 16 yrs old is interviewed about 'Knife Crime'...Five days before he was fatally stabbed, he told an MTV programme: "Stabbings are getting worse but the media is also making it bigger than what it is." You can access his interview and full story below.
Read the full story: http://news.bbc.co.uk/1/hi/england/london/6459265.stm
~~~~~~~~~~~~~~~~~~~~~~~~~~~~~~~~~~~~~~~~~~~~~~~~~~~~~~~~~~~~~~~~~~~~~~~~~~~~~~~~
Tyrone Clarke 16 *(see Joint Enterprise Law information below)
22nd April, 2004
Beeston, Leeds
Tyrone Clarke 16, died after he was attacked by 20 men in Brett Gardens, Beeston, on the 22nd April, 2004. Post-Mortem tests showed he died from multiple stab wounds.
Read the full story: www.bbc.co.uk/news/uk-england-leeds-26821345
~~~~~~~~~~~~~~~~~~~~~~~~~~~~~~~~~~~~~~~~~~~~~~~~~~~~~~~~~~~~~~~~~~~~~~~~~~~~~~~~
Stephen Lawrence 18
22nd April, 1993
South East London.
Stephen Lawrence was fatally stabbed in a racist attack in April, 1993...it has taken 18 years for his mother Doreen, father Neville and brother Stuart to finally see some justice. Following the previous Acquittal of Gary Dobson and David Norris being quashed, the successful re-Trial returned Guilty Verdicts for the Murder of Stephen in 2012
Read the full story: www.bbc.co.uk/news/uk-16347953
~~~~~~~~~~~~~~~~~~~~~~~~~~~~~~~~~~~~~~~~~~~~~~~~~~~~~~~~~~~~~~~~~~~~~~~~~~~~~~~~
Julian Knight 16
17th July, 2006
Abbey Wood, South-East London.

Police found Julian Knight bleeding from a knife wound to the neck after being called to Overton Road in Abbey Wood in the early hours of Saturday, 17th July. The teenager was taken to Queen Elizabeth Hospital, but died at 2.29am. Police believe he was stabbed during a clash involving six or seven people. Julian's death rocked the Thamesmead community and tributes of flowers toys and candles were laid at the site.

Read the full story about Julian Knight.
---
Luke Walmsley 14
4th November, 2003
Nth. Somercotes, Lincolnshire.

During a break in lessons at Birkbeck College in North Somercotes, Lincolnshire, Luke Walmsley was fatally stabbed through the heart. The fellow pupil a 16 year old boy, Alan Pennell was said to harbour ill-feeling towards Luke. On the day of the murder, Luke was walking along the school corridor…he was stabbed in the chest with 'lock-knife' to the full length of the 7cm blade

Read the full story about Luke Walmsley.
---
Lucy Braham 25
14th September, 2006
Harrow-on-the-Hill, North West London.

Officers were called to the house in Petersham Road at about 22.25 BST on Thurs 14th September where they found Miss Braham with stab wounds to the chest and abdomen. She died at the scene. Lucy Braham, the daughter of Harrow School's Art Director was murdered by Mr. Jaggs, the son of another teacher at the school.

Read the full story about Lucy Braham.
---
Stephen Keen 54
6th July, 2006
RAF Lyneham, Wilsthire.

Flight Lieutenant Keen was injured at a property in Tidcombe Walk…he had suffered wounds to his neck and throat. He was taken to the Royal Devon & Exeter Hospital, but died later. A statement from the RAF on Tuesday said "the service's deepest sympathies were extended to family and friends."
Read the full story about Stephen Keen.
---
Anthony Walker 18
29th July, 2005
Huyton, Merseyside.

18 year old Anthony Walker was killed with an 'ice axe' whilst with two friends walking in the McGoldrick Park in Huyton, Merseyside on the 29th July, 2005. This brutal murder took place after ambushing them…two of the friends escaped, but Anthony was caught and killed by the 'ice axe' being embedded in his skull.
Read the full story about Anthony Walker.
---
Daniel Pollen 20
8th July, 2005
Romford, East London.

Daniel Pollen and his friend Andrew Griffiths were waiting for a lift home when they were attacked in a '70 second frenzy' in Romford, caught on CCTV. They had been out celebrating Mr Griffiths' 20th birthday on the 8th July…the attack resulted in Daniel's jaw being broken and was fatally stabbed in the heart. Daniel's Sister: www.youtube.com/watch?v=NZRoiOZXpEU

Read the full story about Daniel Pollen.
---
Kriss Donald 15
15th March, 2004
Glasgow.
Kriss Donald was forced into a car after a struggle shortly after 1500 GMT on Monday 15th March. Early on Tuesday his body was found behind the Celtic Supporters Club on London Road in Glasgow's East End. He'd been badly beaten and stabbed to death…it was described as a particularly brutal attack.

Read the full story about Kriss Donald.
---
Tom ap Rhys-Price 31
13th January, 2006
Willesden, North West London.
The 31 year old victim who was returning from a night out with friends, collapsed after being attacked by two men. Tom ap Rhys-Price was stabbed to death just yards from his home in a 'vicious and gratuitous attack'…after being robbed.

Read the full story about Tom ap Rhys-Price.
---
Father Paul Bennett 59
14th March 2007
St Fagans Church in Trecynon, near Aberdare, Rhondda Cynon Taf. Wales.
Father Bennett, a father-of-two and grandfather, was found by his wife Georgina at about 1450 GMT. A 23-year-old local man was arrested at the scene on suspicion of murder and is being questioned. Police said they were not looking for anyone else.

Read the full story about Father Paul Bennett.
---
IS KNIFE CRIME AS COMMON AS WE THINK? http://news.bbc.co.uk/1/hi/uk/7421534.stm
2010 WHERE ARE WE ON TACKLING KNIFE CRIME...KnifeCrimes.Org believe that it's not a new drive in Schools that is needed it's the continuation and expansion of those programmes already in place, that are engaging young people who want a safe future to become proactive in their own Communities. We need to work hard to reduce the number of Victims which, as at the 11th May is 11 fatalities...far too many young lives needlessly taken. Eleven more families stepping into the abyss of shock that follows the news that the beloved child, brother or sister has been killed by violence...
These are their names...Charlie Wright 17, Wesley Sterling 16, Aliza Mirza 18, Agnes Sina-Inakoju 16, Nicholas Pearton 16, Godwin Lawson 17, Sofyen Belamouadden 15, Olukorede Fajinmi 17, Jessie Wright 16, Isschan Nicholls 18, Marcin Bilaszewski 19.
ATTACKS ON PUPILS IN SCHOOLS 2005-06 & 2009-10...Stats show that more than 1,800 Pupils in Wales were injured in attacks at School in the last Year:
www.bbc.co.uk/news/uk-wales-11484973
DURING 2008 MORE THAN 70 TEENAGE MURDERS - BY THE END OF DECEMBER, 2009...Are we reducing the number of teenagers that have been violently killed in the United Kingdom? During 2007 and 2008 onwards...Knife Crime, Gun Crime and Gangs have featured regularly in the news headlines, collating and mapping full information has revealed that most Police Forces had not seen a case of Teenage Homicide, although complacency is not an option! Evidence is clear that Knife Crime, Anti-Social Behaviour does need to be addressed, whilst ensuring that perfectly Law abiding Young People are not marginalised, and repeat offenders are suitably punished. The cases reported here shows information gathered from Police forces around the UK on every reported case of Murder & Manslaughter (Homicide) in the 10-19 age group.
However, the Capital saw a significant rise in 2007 when 26 youngsters were killed...up from an average of 17 fatal incidents per annum since 2000. During 2008 the tragic loss in the Capital was 29...most of whom were stabbed. You can access the 2008 and 2009 teenage murder information here: http://news.bbc.co.uk/1/hi/uk/7777963.stm
~~~~~~~~~~~~~~~~~~~~~~~~~~~~~~~~~~~~~~~~~~~~~~~~~~~~~~~~~~~~~~~~~~~~~~~~~~~~~~~~
JOINT ENTERPRISE - MURDER...is a form of secondary liability whereby a person who agrees to commit a crime with another becomes liable for all criminal acts committed by the other person, in the course of their criminal venture. It is a Common Law, developed by the Courts, to ensure that all participants in a criminal enterprise could be held accountable. When used in a prosecution, Joint Enterprise relies on the Court determining what the offender could have anticipated or foreseen, rather than what was explicitly agreed or intended.
This applies in all group contexts...for example, if one gang member stabs someone, all the people there at the time, if they were aiding, abetting or encouraging the primary perpetrator will be jointly held responsible, whether they inflicted the fatal wound or not. *Lorraine Fraser's Son Tyrone Clarke was fatally stabbed by a Gang in Leeds...his case was tested in the House of Lords 'Joint Enterprise - Murder'...
www.publications.parliament.uk/pa/ld200708/ldjudgmt/jd080702/rahman-1.htm
HOW 'JOINT ENTERPRISE' WORKS - http://news.bbc.co.uk/1/hi/programmes/law_in_action/8126388.stm
JAILED FOR A KNIFE - http://news.bbc.co.uk/panorama/hi/front_page/newsid_7819000/7819973.stm
SCOTLAND...Listen to John Muir, whose son Damian was stabbed to death in Greenock in 2007, speak about 'Knife Crime' and what it cost his family:
http://news.bbc.co.uk/1/hi/scotland/glasgow_and_west/7605143.stm
OPINION POLE - http://news.bbc.co.uk/panorama/hi/front_page/newsid_7818000/7818856.stm
Trauma faced by Victims' Families
www.bbc.co.uk/news/uk-10687059
E. & O.E