Poems, Verses & Songs
Often media attention to violence leads to public belief that young people are out of control...nothing could be further from the truth! It's easy sometimes to think that Society doesn't care. Recently KnifeCrimes.Org has received some excellent examples of work that's really worthy of sharing with visitors to this website. These verses and songs show real depth of feeling and a desire to see change...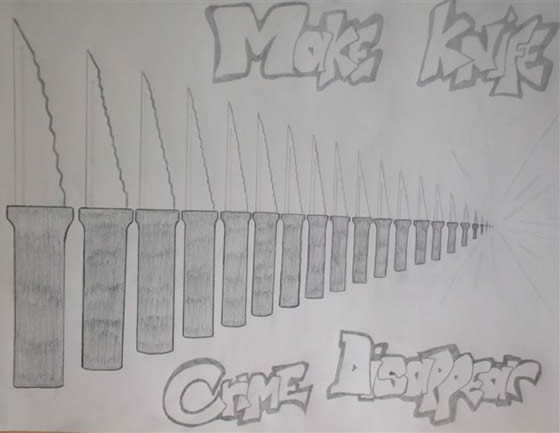 This Picture was drawn by 13 year old Jade of Harlesden, North West London. Jade's message to everyone...
"Nobody needs to carry a 'Knife'
People shouldn't need to 'Fight'...
Let's all make a difference today,
Change our Life!
It's a brand new day!"
~~~~~~~~~~~~~~~~~~~~~~~~~~~~~~~~~~~
ANGELS SINGING IN THE SKY...by Westley J.B. Odger
(Written shortly before Westley's tragic murder on 12th September, 2005)
When I hear the song that travels on the Breeze...
It's not at all easy, when your're not at ease...
But, fear not my fair darling for things are not always as they seem...
But, if you allow me to to be your guide...
Then we will travel the wayward sky...
And, you will not be scared...or sometimes ask why?
Because together we will fly...
And, we both shall hear that music that travels forever on the skies...
The Angels singing in the sky.
********
ONLY HUMAN...by Carl Rachel
Carl Says...I titled this song, Only Human.
It is my spiritual take on positivity, on the fact that we as humans fall,
but a greater force is there to bring us back. I have this song up on the Internet at
If ever I see an angel
she'll have to be flying low
to help this hopeless sinner
why she would God only knows
when Heaven comes down a'callin'
and I stand before my God
I'm sure to be begging mercy
yet all the while deserve the rod

He says you're only human
but I'm here to set you free
you turned to me in good time
and now you're gonna see
you can fly
with me you can fly...

They said a storm was coming
but I stormed out anyway
yeah, I've never been one to listen
always too hell bent to seize the day
then thunder rolls down the mountain
and a hard rain starts to fall
abandoned I'm begging help me
like every sinner who mocks the call

He says you're only human
but I'm here and you're with me
you turned to me in trouble
and now you're gonna see
you can fly
with me you can fly—

with me you can fly.
********
IF WE COULD BRING YOU BACK AGAIN...
Written with Love in Memory of Kashif Mahmood by his Sister Zainub Mahmood
If we could bring you back again for one more hour or day,
We'd express all of our unspoken love;
We'd have countless things to say...
If we could bring you back again
We'd say we treasured you,
And that your presence in our lives meant more than we ever knew
If we could bring you back again,
To tell you what we should,
You know how much we miss you now,
And if we could we would...
********
A BETTER PLACE...
Written with Love in Memory of Kashif Mahmood by his Sister Zainub Mahmood
He's in a better place right now,
Than he's ever been before.
All the pains are gone, he's at rest,
Nothing troublesome anymore,
It's us who feel the burden of our sadness and grief,
We had to cry to mourn our loss,
Before we got relief,
We know we'll reconnect with him at the end of each life's road,
We'll see his cherised face again,
When we realise our earthly road...
********
GUNS & KNIVES...by David Boyce
Written 8th July, 2009 by Special Police Constable Sc 7061 Boyce, F Division
South Wales Police Force, Bridgend
Many teenages go around in groups
And often join a gang
They think it's cool to carry guns
That can take a life in just one bang
They think they are hard
And also very clever
But to use a gun on someone else
Will change their lives forever
Some people will not use a gun
But instead they have a knife
And again it takes one stupid move
To take somebody's life
Please put away your weapons
And lock the guns away
To make our streets much safer
So young kids can grow and play
********
WALKING THE STREET [Drugs]...Anonymous
Walking the street,
Late at night,
Need some drugs,
But money is tight.
Got family problems,
They've stressed me out,
In everyone's eyes,
I'm just a lout.
There's no real friends,
They're just like slugs,
Got one real friend,
His name is Drugs.
He eases my pain,
And clears my mind,
Stops me wishing,
"I was dead at times!"
Like a hammer,
Hitting a nail,
He made me bad,
Now I'm in jail!
I'm out soon,
To start a new life,
To find a new home,
And, a sweet little wife.
To settle down,
And drown my pain,
And never touch,
Them Drugs again!
********
DAD'S POEM to Rhys Jones [Shot - 22nd August, 2007]
www.youtube.com/watch?v=XsAnkv3ktf0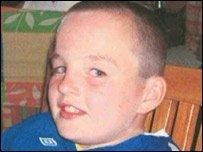 Now God wanted a Football Match
And to play it up in Heaven
But first he needed players
And select his first Eleven
Georgie Best, and Brian Labone
The legend Dixie Dean
Alan Ball and Bobby Moore
All made it in the team
He needed one more player
Someone who would be quick
From up above he looked down
And saw Rhys there in his kit
So Rhys was taken up above
God took him by the hand
To play the game he loved so much
Where sponsorship is banned
There is no cheating either as
God is the referee
There are no mega wages
And the transfers they are free
The games are live on telly
You don't have to subscribe
The players all stay on their feet
'Cos no one takes a dive
So Rhys plays now so happily
To the Angels in the crowd
And every time he hits the net
They roar his name so loud
Have fun my little blue boy
You're safe and in God's care
'Til it's time for me to get my boots
And join with you up there...
********
STAIN OF TRAGEDY...
Sandra Sullivan "Reaction" to Murder - 12th September, 2005
Did you look up?
Did you hear?
Did you react?
Shall I say it again?
Shall I disappear?
Is it catching...will it stain?
How would you like it to be?
Is how I should like it to be, how it should be?
But 'no'...
The truth is in the pain.
********
WHAT IS THE VALUE OF LIFE?
Marie Wilkinson - Mile End, London, UK
To kill with a Knife no value for life...
To destroy and create sadness, in a moment of madness
Blood on your hands...ice in your heart
Any regrets...why did it start?
You sit in your cell as your life goes on...
But, think of all the families...can they be strong?
Everyday that passes, such emptiness in their hearts
For the 'loved-ones' they have lost
So many questions to be asked...
********
If tears could build a stairway,
and memories a lane,
I'd walk right up to Heaven
and bring you home again...
E. & O.E.